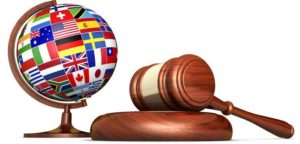 by Wilton H. Strickland
It was a crisp winter weekend in 1998 when I argued as a law student in the Jessup Moot Court Competition, which is devoted to international law and constitutes the oldest, largest, and most prestigious moot court in the world. Every year since then I have participated in the competition as a coach or a judge, and it has been one of the most rewarding experiences of my life.
I had majored in international relations as an undergraduate, so I felt compelled to try out for my law school's Jessup team in the fall of 1997 and prove that my studies had not been in vain. It was nerve-wracking to say the least. I spent hours plumbing the depths of the law school's library in search of elusive authorities on international law. Moreover, a large number of students were eager to join the team, and I had no experience with public speaking or oral advocacy. When my time finally came to stand and argue, my partner slipped me a note saying "good luck," and I nervously proceeded to argue the intricacies of international child abduction (which coincidentally prepared me to scrutinize the Elián González debacle only two years later).
Elated at making the cut, I plunged into researching, writing, and arguing at a level that matches and even surpasses anything I've done since. Using our trademark approach at UVA of arguing with no notes at all, we mowed down the competition at the regional round and made it to the final, where a victory would send us to Washington, DC to argue against other law students from around the world. Again we dominated our opponents, but to the amazement of everyone in attendance (including our adversaries), we lost. This was a final and valuable lesson about practicing law: even when you're right and deserve to win, the judge may still rule against you. I got revenge the following year, though, as I coached the UVA team to victory at the regional round and had a memorable experience at the international round.
My love of Jessup only grew after graduating from law school. Though I no longer could compete, I began volunteering every year as a judge in my region and in Washington, DC. Since moving to Montana in 2010, I again got involved in coaching, and my team from the UM law school is now preparing to do battle at the regional round in Denver. In April I will head to the nation's capital once again, either as a judge or (if my team advances) as a coach.
Through all these years I've made many friends, accumulated fond memories, and gained intellectual stimulation. This last benefit cannot be ignored, especially in light of the growing prominence of world affairs in our everyday lives. All of us need to be conversant in international law, a subject once regarded as esoteric or perhaps even irrelevant. It is anything but. International trade, immigration, communication, criminal prosecution, environmental protection, boating, fishing, litigation, arbitration, and the weighty questions of war and peace — all of these activities and more implicate international law. What was once a luxury that I began exploring as a young student is now more of a necessity.
Here is a quick primer on what international law comprises, and I encourage you all to learn more. The very term "international law" bespeaks an arrangement of affairs between independent states/actors. International law leaves each state the master of its own destiny and with presumptive power to govern its own citizens in its own way. National sovereignty plays an essential role in the international legal order, as reflected by the fact that the very sources of international law have their roots in national consent, as follows:
| | |
| --- | --- |
| Treaties | Agreements binding only those states that sign and ratify them. |
| Customary norms | A widespread practice among states based on the belief (opinio juris) that such practice is legally required. |
| General principles of law | Principles with widespread observance, often in the domestic legal systems of the vast majority of states (e.g., waiver, unclean hands).. |
The United States acknowledges these three sources of international law, as noted in Section 102 of the Restatement (Third) of Foreign Relations Law. Moreover, these sources appear in Article 38(1) of the Statute of the International Court of Justice, an appendage to the United Nations Charter. Although Article 38(1) also references the writings of highly qualified scholars, this is not a true source of international law, but rather a subsidiary means to shed light on the three sources listed.
These benchmarks illustrate that international law is, ironically, a purer form of law than what most modern governments offer their own people, since the best and most durable laws grow naturally from the customs and wishes of the people rather than being arbitrarily handed down. For example, under the common law that America inherited from England, judges may not presume to create law, but rather to observe it and uphold it as manifested in the people's way of life. Likewise, international law follows the practices of the family of states, seldom daring to divorce itself from the very community whence it springs.
I encourage everyone — whether an attorney, a law student, or otherwise — to learn about international law. It is both rewarding and useful, a rare combination.