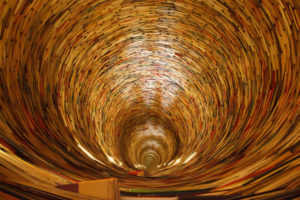 by Wilton H. Strickland
During my career I've been involved in bankruptcy matters on a few occasions now and then, but two years ago I had an experience that made me promise to stay far away from them. What seemed like a trivial matter involving a bankruptcy petition turned into an ordeal that I can describe only as otherworldly. A serious attempt was made to intimidate me into confessing to a violation of a federal statute that does not even apply to attorneys. I refused to make this confession, and I share my story so that other attorneys out there can learn from my experience and refuse to surrender their rights as well.
It all began when someone asked me to review a bankruptcy petition that she had filled out at the instruction of a debtor. At first I declined because my bankruptcy experience is limited, but she assured me that all she wanted were answers to some basic legal questions and for me to tell her if any major errors leapt out at me. I agreed to perform this limited service for a small fee, emphasizing that I would not review any of the underlying facts or be able to vouch for the truth of anything in the petition; at most, I would answer pure legal questions and operate on the understanding that the information already in the petition was correct. After answering her questions and recommending some edits, I thought nothing more of it.
A few weeks later I received a notice that a U.S. Bankruptcy Trustee wanted to take my deposition about the work I had performed. Having nothing to hide, I obtained my client's consent to discuss these matters. It turned out that my client had not followed all of my advice and in fact had made some errors in the petition, which had riled up the debtor and infused the Trustee with a sense of righteous indignation.
When the day for giving my testimony arrived, it soon became apparent that this was not a deposition at all, rather an inquisition. The Trustee was surly, confrontational, and intent on grilling me about my knowledge of the bankruptcy code rather than the nature of my work (thereby going well beyond the scope of the deposition notice). It so happened that I was more aware of applicable bankruptcy precedent than he was, which didn't make him any friendlier or deter him from his mission to persecute me. After yelling and finger pointing for a few hours, he finally announced that he would file a complaint against me for violating 11 U.S.C. § 110 unless I entered an agreement to forgo litigation. I told him that I would give the agreement serious consideration whenever he sent it to me.
On my own time, I researched 11 U.S.C. § 110 and found out that it regulates non-attorney bankruptcy petition preparers, often referred to as BPPs. All of the case law I could find regarding the statute was clear that it does not apply to attorneys, yet here was a U.S. Bankruptcy Trustee grasping beyond the scope of the statute and attempting to exert control over me as an attorney. Moreover, I had it on good authority that this Trustee took pride in referring confessors to the state bar for disciplinary action. This was outrageous, and I realized that much more was at stake than my personal worries. The bar itself was under attack, and I wasn't going to surrender.
The Trustee's proposed agreement arrived and, as expected, prompted me to admit violating the statute in exchange for forgoing litigation. I was tempted to reject the offer on its face and file my own ethics grievance. Yet I knew this would be counterproductive, given the ego I was contending with, so I sat down and composed a letter offering a friendly solution that would give everyone a quiet way out rather than descend into a war that I made clear I was ready to fight. My letter (slightly edited for confidentiality) read as follows:
Dear Mr. [Trustee],

Thank you for offering me the opportunity to enter a stipulation regarding my assistance to [my client], and I agree with you that resolving this matter amicably serves everyone's interests much better than a lawsuit would. That being said, I cannot in good conscience sign your proposed stipulation as it is currently worded. I will set forth my reasons below and, in a renewed effort to resolve this, propose a modified stipulation that matches your current one in almost every respect. . . .

My Reasons For Not Signing The Current Stipulation

Your proposed stipulation asks me to admit that I functioned as a bankruptcy petition preparer ("BPP") as defined under 11 U.S.C. § 110, and that as such I violated certain provisions of the statute by not identifying myself on the petition filed by [my client]. My research shows that I cannot qualify as a BPP, and therefore I will not affix my signature to a document saying that I am one.

"Bankruptcy petition preparers are by definition not attorneys; they do not 'practice law or give legal advice.' 11 U.S.C. § 110(b)(2)(B)(i)." In re McDowell, 483 B.R. 471, 487 (Bankr. S.D. Tex. 2012) (emphasis added). The cited portion of the statute in McDowell states that a BPP "shall inform the debtor in simple language that a bankruptcy petition preparer is not an attorney and may not practice law or give legal advice[.]" Clearly, this requirement for BPPs does not apply to me as an attorney, especially considering that giving legal advice is what I did in the present case. The statute also says that a BPP "shall not use the word 'legal' or any similar term in any advertisements, or advertise under any category that includes the word 'legal' or any similar term." 11 U.S.C. § 110(f). My advertising most certainly does use such terminology, so if I were to admit being a BPP I would also be admitting that my advertising is unlawful, which is preposterous.

I have searched in vain for any court decision from any jurisdiction holding that an attorney qualifies as a BPP in the same jurisdiction where he or she is licensed to practice law. What I have found is the opposite. See In re N. Am. Clearing, Inc., No. 6:08-ap-00145-KSJ (2015), 2015 Bankr. LEXIS 2614, at *3 (M.D. Fla. July 29, 2015) ("Bankruptcy petition preparers are non-attorneys[.]"); Milavetz, Gallop & Milavetz, P.A. v. United States, 559 U.S. 229, 236, 130 S. Ct. 1324, 1332 (2010) (acknowledging in dicta that BPPs are "a category of professionals that excludes attorneys and their staff[.]"); Gould v. Clippard, 340 B.R. 861, 874 (M.D. Tenn. 2006) ("Petition preparers, who by definition are not attorneys, cannot give legal advice or otherwise engage in the unauthorized practice of law.") (citation omitted); In re Bernales, 345 B.R. 206, 218 (C.D. Cal. 2006) ("If anything, the BAPCPA [2005 set of amendments] has made it much clearer that bankruptcy petition preparers without exception are prohibited from practicing law.").

It's true that the definition set forth in 11 U.S.C. § 110(a)(1) appears to allow for the possibility that an attorney could be a BPP if he or she is not the attorney "for the debtor." However, "statutory language cannot be construed in a vacuum" because it is a "fundamental canon of statutory construction that the words of a statute must be read in their context and with a view to their place in the overall statutory scheme." Davis v. Mich. Dep't of Treasury, 489 U.S. 803, 809, 109 S. Ct. 1500, 1505 (1989). "A court must therefore interpret the statute as a symmetrical and coherent regulatory scheme and fit, if possible, all parts into an harmonious whole." Food & Drug Admin. v. Brown & Williamson Tobacco Corp., 529 U.S. 120, 133, 120 S. Ct. 1291, 1301 (2000). The express purpose of 11 U.S.C. § 110 was to regulate non-attorneys. In light of that purpose; in light of the other subsections in the statute making it clear that BPPs are not attorneys; in light of the fact that I was practicing law when helping [my client]; and in light of the uniform case law recognizing that BPPs are not attorneys, it would be untruthful and irresponsible for me to sign your proposed stipulation as currently worded.

I hasten to add that there is no signature block for me on the petition documents. There is a block for an attorney for the debtor, which doesn't apply to me. There is another block for "Non-Attorney Bankruptcy Petition Preparer," which also doesn't apply to me and only confirms what I've already stated above herein regarding the nature of BPPs. The BPP in this case was [my client]. She already has admitted, and been penalized, for not providing the necessary information on the petition documents. As I stated in my deposition, I volunteered my information to her and have not concealed anything. To the extent you feel that my legal advice to her was incorrect or deficient, that is a matter concerning my services as an attorney, not as a putative BPP.

My Proposal

I am willing to enter a stipulation with you providing that 1) I will surrender the . . . fee that [my client] paid to me; and 2) I will refrain from assisting with the preparation of bankruptcy petitions, both in exchange for your assurance that your office will initiate no action against me stemming from this matter. But I will not admit violating 11 U.S.C. § 110, unless perhaps you provide me with a court decision holding that an attorney can be penalized as a BPP in the same jurisdiction where he or she is licensed to practice law.

I have attached a new proposed stipulation for your review. You will find that it parallels your stipulation except on the discrete issue of my alleged status as a BPP, which I deny. Thank you again for your attention, and I look forward to your response.

Sincerely,

Wilton H. Strickland
Several months went by with no response. I imagine that the Trustee had his staff scrambling to find any legal reference, however oblique, to an attorney who qualified as a BPP in the same jurisdiction where he or she was licensed to practice law. Whatever furious efforts were happening beneath the surface, at long last the Trustee broke his silence and informed me that my counter-proposal was acceptable.
This was an important victory, not just for me but for all general practitioners, who should exercise caution with regard to bankruptcy matters. This may be a crimped and prosaic area of the law, but it is jealously guarded by the specialists who have devoted their lives to it. I'm sure the Trustee saw himself as nobly protecting bankruptcy practice against ruffians and interlopers, not as overreaching his domain or bullying attorneys, but at the end of the day it makes little difference. The danger is there, so be careful not to get pulled down the rabbit hole as well.