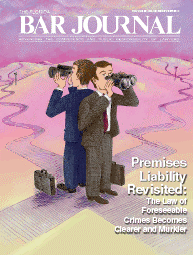 by Wilton H. Strickland
I am pleased to announce that the Florida Bar Journal has published my latest article as the cover story for its December 2014 issue. The article is a "sequel" to the one I wrote in December 2009, which discussed how Florida's appellate courts had charted different paths regarding the following question: when does a crime become foreseeable for purposes of establishing the landowner's liability for failure to prevent it? Some courts take a strict approach while others prefer a broad one.
Back in 2009 the Second District Court of Appeal had not yet weighed in on the issue. Just last year the court finally spoke, and it announced a broad approach while simultaneously criticizing the strict approach as outdated or anomalous. It is the criticism that my new article analyzes, concluding that the strict approach remains very much alive and, in fact, might be gaining ground.
I invite you to read the article here.